Problems with Intimate, or vulvar, dryness make the vulvovaginal area vulnerable to infections and can disrupt your private life. Using a suitable hygiene product helps to limit these problems.
Intimate dryness: causes that affect all women
1 woman in 5 complains of dryness in the intimate area*…but everyone can be affected during their life. Gynaecologists are able to identify the origin of the problem and are aware of the importance of appropriate personal hygiene.
Hormonal variations over time
Oestrogen guarantees the suppleness and proper hydration of the vaginal mucosa. Hormonal variations can create "vulvar dryness", particularly after giving birth, while breastfeeding and during the menopause.
An unhealthy lifestyle
Excessive washing of the intimate area can disturb the vulvovaginal flora and expose you to infections (such as mycoses). Full hair removal also promotes vulvar dryness and irritation by entirely exposing the vulva. Stress and smoking are also causes.
As are certain medicines
There are other factors for intimate dryness, such as taking antidepressants, mini-dosed pills, etc.
Solutions for all women
Whatever the trigger, whether symptoms are rare or regular, good personal hygiene is key to limiting so-called "intimate dryness".
The choice of hygiene product for the genital area is important and should follow these criteria:
A soap-free cleansing product, with lipid-enriched agents to care for the protective hydrolipid film and the natural lubrication of this area.
A formula with a key hydrating active substance.
No aggressive antiseptics for the mucosa, which may destroy the lactobacilli (vagina's protective flora) located in the vulva, near the vaginal opening. Use gentle products to avoid vulvar dryness.
*Survey KY – Louis Harris January 2003.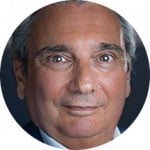 JEAN-MARC BOHBOT
Infectologist/Medical Director, Fournier Institute