Florgynal Probiotic Tampon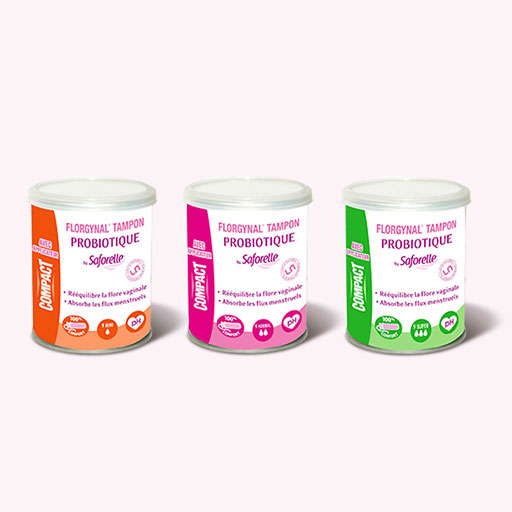 Florgynal Probiotic Tampon
Florgynal Probiotic Tampon: the only tampon that acts during your periods by releasing probiotics to restore your vaginal flora. 2 benefits for the price of 1 ! Available with and without applicator With compact applicator:
Box of 9 compact tampons Super
Box of 9 compact tampons Normal
Box of 9 compact tampons Mini
Without applicator
Box of 8 tampons Super
Box of 12 tampons Normal
Box of 22 tampons Eco normal
Box of 14 tampons Mini
The lactobacilli that are naturally present in the vagina are your main defensive weapon against vaginal infection.
But sometimes, these lactobacilli are not present in sufficient quantities, which causes an imbalance of the flora, leading to vaginal itching, burning sensations and unpleasant odours.
It is recommended that you increase your lactobacilli with probiotics, to rebalance the flora. This probiotic tampon is the only vaginal probiotic with a local action in the form of a tampon. It acts during your period so you don't have to give it a second thought!
Proven clinical efficacy¹²³
Reduces vaginal discomfort: itching, irritation, etc.
Protects the vagina against bacterial imbalances.
Restores the natural flora.
Improves recovery in addition to an anti-infection treatment.
Use Florgynal Probiotic Tampon as a regular tampon during your periods, with at least 3 Florgynal tampons per day for 3 days of your period, and ideally for 3 cycles.
We have the answer
A doubt or a question?
The lyophilised probiotics in the tampons are only released at body temperature. As soon as the tampon reaches body temperature, having been inserted, it releases the probiotics, which take around 90 minutes to be diffused inside the vagina in order to protect it. Change the tampon every 4 hours.
It is recommended that at least 3 Florgynal Tampons be used per day, for at least 3 day for 3 days of the period. Beneficial effects are observed from the first applications. For an optimal effect, use Florgynal Tampon for a duration of 3 to 6 cycles.
Florgynal Tampon is recommended for all women on their period experiencing an imbalance in the vaginal flora, manifested by:
unwanted symptoms: itching, irritation, burning sensations, unpleasant odours, etc.
vaginal infection: vaginosis, recurring mycosis, etc.
It is the ideal time to restore the vaginal flora because periods bring a greater risk of imbalance.
The patented LN (Lacto Naturel) probiotic in Florgynal Tampon is made up of 3 different strains of Lactobacillus, which occur naturally in the healthy vaginal flora and whose role is to help maintain bacterial balance.
Florgynal Tampon has been sold in Sweden since 2002 under the name Ellen. The existing perspective in Scandinavia shows that after the use of over 11 million units, no side effect has been identified.
There is no risk of overdose. You can use Florgynal Tampon with each cycle and for as long as you like.
This is not indicated in the recommendations for use. It is also likely to be difficult to insert a tampon outside your period, especially when suffering from an imbalanced flora and the accompanying irritation.
It is certainly possible to alternate with other protection products as long as you use 3 Florgynal Tampons per day for a minimum of 3 days.
The probiotics in Florgynal Tampons are better protected from light, heat and moisture in a metal box. This box provides better storage for the product.
This medical device is a regulated health product which bears, under this regulation, the CE 0344 class II marking. Read the leaflet carefully. Consult your pharmacist. 04/2019.
Double blind, placebo controlled study – 16 women – 2001, Report 16.02.2010
Double blind, pacebo controlled study – multicenter study – 255 patients-2003, Report 16.02.2010
Double blind, placebo controlled clinical study, 2007 – Colonisation of the LN bacteria strains, Report 16.02.2010