Menstrual panties are the latest innovation on the hygienic protection market. It is in tune with the times, designed for women who want to find alternatives to disposable pads and tampons. Period panties continue to be talked about and seduced. So why choose menstrual panties and how to use them ? Manual.
WHAT ARE MENSTRUAL PANTIES?
Menstrual panties or menstrual panties are ultra-absorbent protection, in the form of delicate underwear. With an absorption capacity equivalent to three tampons, it prevents leaks and guarantees moisture-wicking comfort. It is washable and reusable. Some people think that menstrual panties are designed as simple briefs with an incorporated sanitary napkin. It is actually much more complex. A real technological feat lies in these panties !
Its ultra-absorbent core is made of multi-layer textile technology, combined with the softness of cotton, respectful of privacy and the planet. This layering of innovative fabrics includes: a waterproof membrane that prevents leaks, a technical mesh layer that traps the flow in its absorbent core, all covered with a delicate veil that respects the sensitivities of women's intimate area . Added to this technology are leak-proof seams for formidable efficiency.
Note that a specific version of this technology, adapted to small morphologies, is available for young girls. Tested under dermatological and gynecological control*, it is perfect for teenage girls in prevention and for the arrival of their first period.
The menstrual panties are Oeko-tex® certified. It is a certification awarded to products that meet precise specifications, in order to guarantee the textile safety of its components. In other words, this label guarantees a total absence of chemical absorbents.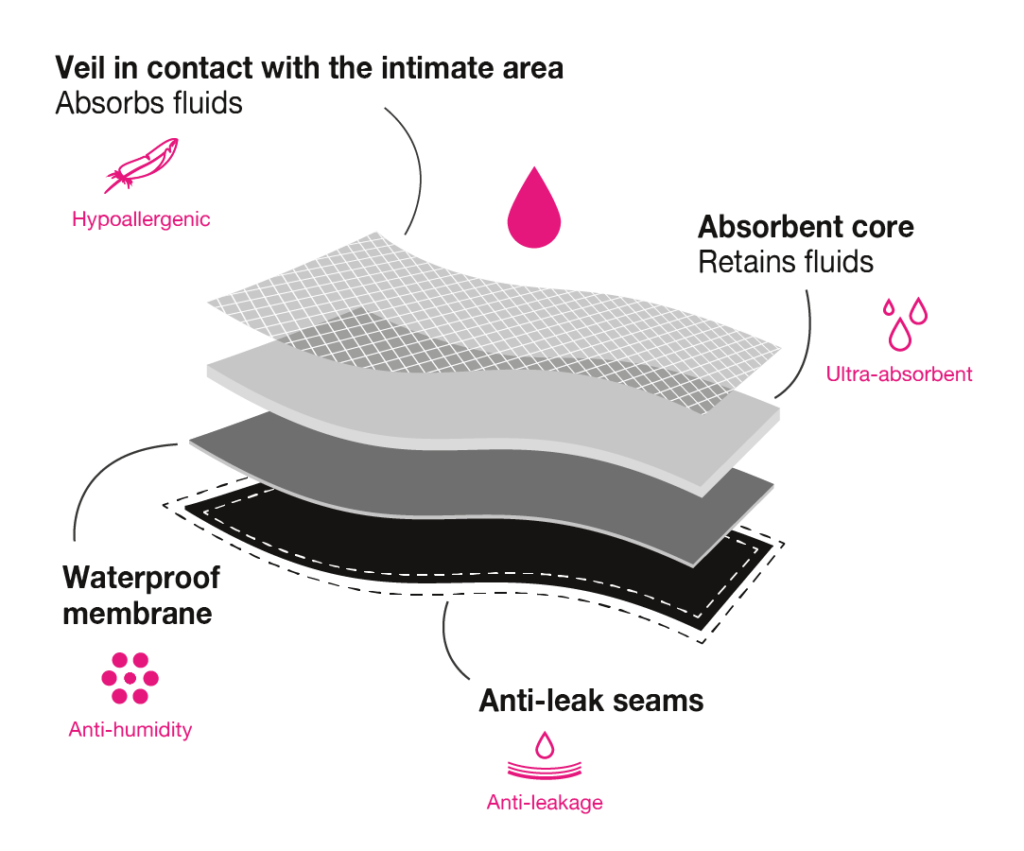 5 GOOD REASONS TO TEST AND ADOPT PANTIES FOR PERIOD
The arguments jostle to convince to choose period panties, because it lists, on its own, all the qualities required for good hygienic protection.
Ease of use : it is as easy to put on and wear as a classic underwear.
Comfortable and discreet : it has an ultra-absorbent capacity for only three millimeters in thickness, which protects against discomfort in the crotch. It does not cause unpleasant odors and preserves the feeling of humidity**.
Anti-leakage and anti-moisture : a waterproof textile technology guarantees this promise. Even the seams are engineered to be leak-proof! In addition, the absorbent fabric integrated into the panties remains fixed.
Ecological issue : washable and reusable for up to 100 washes. Choosing menstrual panties means limiting waste and toxic substances that not only pollute our planet, but also women's bodies, on average five days a month.
Economic format : despite a higher purchase cost than disposable protection, menstrual panties can be used over several years. An investment that will ultimately reduce the budget dedicated to periodic protection.
HOW TO CARE FOR YOUR MENSTRUAL PANTIES ?
Period panties are machine washable, without fabric softener, at 40°C. Best to do a quick hand pre-wash in cold water before adding to laundry. The dryer is allowed. She doesn't iron herself.
HOW OFTEN SHOULD YOU CHANGE YOUR MENSTRUAL PANTIES ?
The panties have an absorbency*** equivalent to three normal size tampons. The abundance of the flow determines the time during which it can be kept. It is recommended to be equipped with at least two or three period panties, in order to be able to carry out a rotation calmly during the entire menstrual cycle.
WHEN TO WEAR YOUR MENSTRUAL PANTIES ?
Period panties can be used as the main protection or in addition to a tampon or a cup for very heavy flows, and if you are worried about leaks. For light or normal flows, you can wear period panties all day to limit the risk of leaks. Finally, it appears ideal for main protection at night, even in the event of heavy flow (the lying position limits the amount of blood lost).
WHAT SIZE TO CHOOSE FOR YOUR MENSTRUAL PANTIES ?
In order to correctly select the size of your menstrual panties for optimal comfort, simply measure your hip circumference, and apply the following equivalences :
From 90 to 94 cm : size 34-36
From 96 to 100 cm : size 38
From 102 to 106 cm : size 40
From 108 to 112 cm: size 42
From 114 to 118 cm: size 44
Available for young girls in 12 and 14 years old
If you are between two sizes, prefer the size above.
* Use test under dermatological and gynecological control - Perceived efficacy in 25 volunteers - 2020-0110-04/2020.
** Absence of feeling of humidity felt by 68% of women-2018/3239-01/31/2019. Use test under dermatological and gynecological control - Perceived efficacy in 25 volunteers - 2020-0110-04/2020.
*** Ultra-absorption: 6 drops. Suitable for moderate to heavy flows. Adult panties: 3 tampons: Absorption test, study N°81894b, 07/19/2018)